Jared Clinton experienced what could be viewed as a classic "racial profiling" pretextual stop in the Summer of 2018.  He was a passenger in a rental car being driven by his friend, Montray Little. The bodycam video of the stop went viral and has been viewed over 13 million times.
As of the Spring of 2020, Jared has, in fact, relocated to Colorado, as he predicted he may have to, due to the aftermath of this unjust police stop.
Black parents and "The Talk"
Mothers of young Black men are always worried about the police targeting their son(s).  Most Black parents have "The Talk" as their children approach the teenage years.  The talk gives sober guidance on the dangers of police interaction.  Jared's mom, Laural Clinton, shares the impact of this 2018 incident with JustVoices.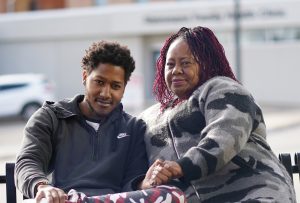 Watch Laural Clinton, "A Mother's Story"